Community
The people of St James:
work to ensure that all are welcome; those who have had too much of church in the past, those who are checking it out for the first time and all those in between
are an inclusive community offering friendship and fellowship to those travelling as companions on the Christian journey, whatever the stage
share in and support the highs and lows of individual lives and of the community.
Challenge
The people of St James: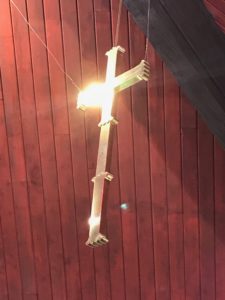 look for growth in our Christian life while trying to follow the example of Jesus
expect to be inspired and challenged by the Spirit on issues within their lives as individuals and as a church
recognise that the Christian life is a journey in which insights and growth are shared with our companions on the road.
Spirituality
The people of St James:
seek to encounter God through worship, engaging with the Bible and in prayer
are a worshipping community who share the Christian journey in celebration and sorrow and in the breaking and sharing of the bread and the wine
seek to grow together in small groups and daily prayer.
Service
The people of St James:
believe that faith is not just for Sundays but changes the whole of our lives and the whole of our society
partner with the people of Bishopbriggs in cultivating a dynamic and strong community
engage generously with, and campaign with other partners for, trade and social justice and the fight against poverty and loneliness
are committed to working together with other Christians.